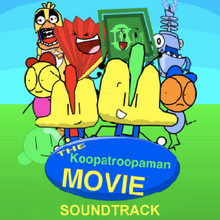 The Koopatroopaman Movie is the soundtrack of the 2014 animated feature film The Koopatroopaman Movie. It was made available for digital download on March 1, 2014, and then released in stores a day later.
Track Listing
Happy Together sung by The Turtles
Movement Proposition composed by Kevin Macleod
The Descent composed by Kevin Macleod
Witch Encounter (Remix) composed by LilDeuceDeuce
Hamlogna Sandwiches! sung by Zaprex
Hitman composed by Kevin Macleod
Scheming Weasel (Faster Version) composed by Kevin Macleod
Gotta Go Fast by 4Kids, from Sonic X
Up There sang by Evilbross, from South Park: Bigger, Longer & Uncut
Mixels Ending Theme by Kevin Manthei, from Mixels
Final Bowser Battle composed by Takeshi Hama and Mahito Yokota, from Super Mario 3D Land
Who Likes to Party composed by Kevin Macleod
Mountain Town sung by the film's cast, originally from South Park: Bigger, Longer & Uncut
Hey Brother sang by Avicii
Call of Adventure composed by Kevin Macleod
Eyes of a Child sung by Michael McDonald, from South Park: Bigger, Longer & Uncut
Gallery
Ad blocker interference detected!
Wikia is a free-to-use site that makes money from advertising. We have a modified experience for viewers using ad blockers

Wikia is not accessible if you've made further modifications. Remove the custom ad blocker rule(s) and the page will load as expected.