"
Hi! I'm Koopatroopaman. The known greatest Koopa in KoopaVille
"
 

— His official rememberable catchphrase
Kevin "Koopatroopaman" Bertarine better known as Koopatroopaman (足の不自由な男/Kuppanootoko) is the main protagonist of The Koopatroopaman Show, The Koopatroopaman Movie series and the games which features him as the protagonist. He is the leader of his gang. He is a 11 year old boy and he was born in September 10, 2003. He is Koopatroopamon's brother. He lives in KoopaVille (Idea by Eugen P.). His favourite foods are Pizza and M&M's. His voice is IVONA Brian and his Japanese voice is Kenichi Ogata.
Personality
Koopatroopaman is an 12 year old kid who lives in KoopaVille and he likes Scratch. He is pretty harmless at most times, but can rarely be aggressive.
Appearance
He is a Koopa (Which doesn't look like one from The Super Mario Series) who has the same clothes as Luigi.
Early look
During 2012, he was a little Koopa with no shading, a green square body and stickmen arms.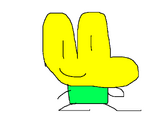 Ad blocker interference detected!
Wikia is a free-to-use site that makes money from advertising. We have a modified experience for viewers using ad blockers

Wikia is not accessible if you've made further modifications. Remove the custom ad blocker rule(s) and the page will load as expected.