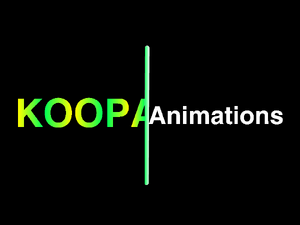 KoopaAnimations (Styled as KOOPA|Animations) (formally ToonBomb) is a sister company of KoopaWorks and the replacement of Koopatroopaman Video.
History
In 2009, ToonBomb was founded by Nadjib M. and a unit of Viacom. They only made one short called The Ball.
However, in 2010, ToonBomb was originally going to make their first full-length animated feature called The M&M's Movie, but was cancelled due to budget cuts and the studio shut down. The possible reason for the budget cuts is because of getting sued for using some characters without permission.
In 2013, Nadjib M. wanted to reopen the studio and was originally re-named to Animation Central, but it was scrapped due to copying Comedy Central. It was soon un-named until it was bought by TimeWarner and KoopaWorks and was finally re-named to KoopaAnimations.
It was confirmed that in 2017, the company will be defunct and will be folded into KoopaWorks Films for an unknown reason.
Filmography
Film
Ad blocker interference detected!
Wikia is a free-to-use site that makes money from advertising. We have a modified experience for viewers using ad blockers

Wikia is not accessible if you've made further modifications. Remove the custom ad blocker rule(s) and the page will load as expected.